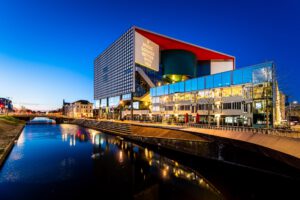 Vredenburgkade 11, 3511 WC Utrecht
This venue has six music rooms where shows can behold.
Grote Zaal – For symphonic concerts too (semi-)seated pop shows

Ronda – For pop concerts & club nights

Pandora – For pop concerts & club nights

Hertz – For small room shows Comedy shows, Conferences

Cloud nine – For Jazz, Pop, Comedy, club nights

Club nine – For intimate concerts, comedy & lectures
I've only gone to the music room Ronda a couple of times.
Tivoli-Vredenburg is a pretty venue in my opinion. On the main floor, you can find a café/bar. You can sit and have food & beverages before and after the show.
To go to the music room you can go with the escalator one floor up and take the stairs after. Or when the escalator is not available, you will have to take 2 or 3 stairs up. For the physically disabled there is an elevator.
When you enter the music room you will see a large open space with a bar on the left side and stairs on both sides of the stage. It is possible to experience the show from the stairs. It's wide and large enough for people to be at, and enjoy the show. The stairs will also lead to the second floor where you can have a great view of the stage.
It doesn't matter where you are standing, 9/10 times you will have a good view of the stage (of course if a tall person is not blocking your way…)
QUEUING
It can be quite confusing to queue at this venue. It depends on how large the show will be (with the number of attendees) and the weather conditions.
The staff will place barriers outside so you can queue there. Or you can queue inside. But inside of the venue is a large open space, so queueing could be hectic and unorganized.
Working with a number system would be ideal for this venue. To make sure that everything goes smoothly and most importantly SAFE!
MY EXPERIENCE
I have been to this venue three times, and all of those times were a good experience.
The staff members of the venue were clear and easy to talk to. They will even allow you to use their restrooms (free of use), which are very convenient and kind.