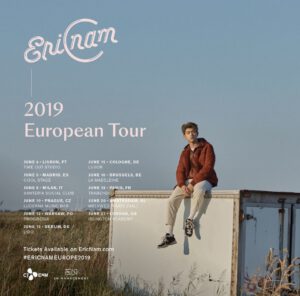 20 June 2019, Amsterdam
When I first heard that Eric Nam was doing a world tour, I didn't know this man could sing.
I have known Eric Nam to be a presenter and a host at various shows and programs. When I heard his songs, I needed to go to his show in Amsterdam.
I was pleasantly surprised to find out that many of my friends decided to go to the show.
For his Amsterdam show, I decided to go for a regular ticket. There were three kinds of ticket options;
Regular

Early Entry: Follow-up entrance after the VIP people.

VIP: First entrance of the show and you will be taken a picture with him and four other people.
QUEUEING
My friend and I arrived at around noon, and there were already people queueing since the early morning. Mostly VIP people that were queueing and a few with regular tickets.
There was someone who was in charge of giving the numbers of the entrance (number system).
After a while, more people came in, and it wasn't possible to give any more numbers. It started to be too crowded, so people continued the queue without numbers.
While we waited, many people were handing out freebies. There where polariods, and handmade photocards. Super cute!!
THE SHOW
The concert was held in the music room THE MAX. The venue's largest room. And if I can recall correctly it was also sold out.
It was possible to get merch before the show, but also after. You had the basic items like t-shirts, sweaters, and hats. There was also fanmade merch. You could get a 'lightstick' for € 2- € 3. It was a foam thingy with lights inside with Eric Nam's face on it.

When you come into the music room, we had to wait until Eric's band started playing to start the show.
As Eric Nam calls his shows: Concert/Tedtalks, he wasn't kidding.
He took his time talking about his experiences and giving us life lessons. He interacted with the crowd and made various (hilarious) comments in between his songs. He is truly one of a kind!
I really enjoyed his concert! I would truly recommend anyone to go to one of his shows.
Eric Nam is such a professional, a great singer, but such a hilarious guy!
Thank you for reading! If you went to one of Eric Nam's shows, what was your experience like? I would like to read all about it.