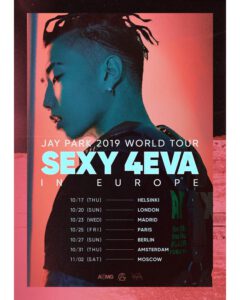 31 October 2019, Amsterdam
Melkweg, The Max
When I heard that Jay Park was coming to Amsterdam, I was excited. No other thought than I NEED this ticket was on my mind.
We got an announcement that G-Soul (GOLDEN) & PH-1 will be joining him. I didn't know about them and their music.
At first, we wanted to get a VIP ticket. When you have a VIP ticket you are meeting the artists and taking a picture with them with a group of five people. But since we were with the three of us, we didn't want to have a picture with the artists and two other people. So that's why we decided to get a regular ticket.
QUEUING
My best friends and I decided to go together and to queue really early, like 7/8 AM.
When we arrived at the music venue there were people already queueing many hours before us. There were also people coming from other countries like Germany.
The vibe in the queue was so good. Someone had their large boombox and played K-pop and K-Hip Hop music. We sang along, and later that day when more people came in, there was also some dancing involved.
In the queue, we met with more people, and I got to see some old friends.
I don't recall if there was a number system involved. I think there was.
INSIDE THE VENUE
When it was time to open the doors, the security checked our tickets and got inside the venue. When we were inside the music room, my friends and I decided to go stand on the right side of the room where the stairs were. Since my friends are quite taller than me, we decided that I go standing on the stairs and they were standing lower than me. In that way, all of us had a good side of the show.
TIME FOR THE SHOW
G-Soul (GOLDEN) was the opener of the show.
This man is so incredibly talented. If you haven't heard of this artist please look him up.
I don't recall which of his songs he did, but he performed two songs, and then Jay Park come on.
In the middle of the show, the next performer comes in: PH-1.
He has a song that many people knew Homebody, which was a vibe. He played in a total of 2/3 songs.
Jay Park performed his 'big' songs like Mommae, Sexy 4 Eva & V.
The crowd definitely passed the vibe check. It was so much fun.
In between songs he took some time to catch some breath of all his dancing & got something to drink. He interacted with the crowd, told some stories and comments about various stuff. He also announced that he is planning to start his own Soju brand. (EXCITING)
When Jay Park, GOLDEN (G-Soul), or PH-1 decides to tour in Europe, and performers in Amsterdam, I will definitely be there.
The whole show was a vibe, and we had so much fun!!
Thank you for reading! Did you also go to this concert? Let me know your experience. I would love to read all about it.