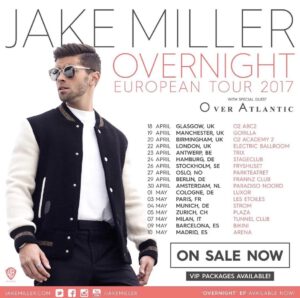 30 April 2017, Amsterdam
My first ever concert!! Waaahhhhh
It feels odd that my first concert was 5 years ago, but it also feels like it happened like last week.
If you don't know Jake Miller, I recommend checking him out. Earlier in 2015 he also had a concert, but I couldn't
attend. I was able to meet him before his show, which was fortunate. And I can say that he is one of the kindest artists I have ever met. I'm so glad my first experience was with him.
For this show, I bought a regular ticket. Unfortunately, I wasn't able to get a VIP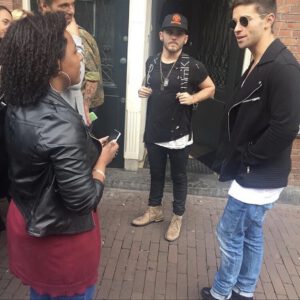 ticket. I think I bought my ticket for around 40 euros.
The show was at Paradiso Noord located in Amsterdam.
QUEUING
I arrived at the venue around 11:00 AM. Since the concert was on a Sunday, and I had to travel by public transport, I wasn't as early as I wanted to.
Many of my (internet) friends were also queuing around the same time. We kept each other company, and we had a good time.
Because we had to wait for a long time, we also went into the city to get food and sightseeing. We came at an appropriate time and stood at our spot. We were working with a number system, and everything went smoothly.
TIME FOR SHOW
First off, people with VIP tickets were allowed to enter first. With the VIP ticket, you'll meet the artist Jake Miller, take a picture with him and have the first entry of the music room.
Later on, people with regular tickets entered inside, and I was one of the first people to enter second into the room. If I recall, I was standing on the 2nd or 3rd row, on the right side of the stage.
Thankfully I had a good sight of the whole show!
The band/boy group Over Atlantic was the opener for the night. Very talented young guys. (Unfortunately, they decided to part ways & work on other stuff separately)
After this act, it was time for the show!
If I'm being honest all I can remember is that the whole show was such a vibe. Somewhere during his set, a new friend of mine and I were asking Jake to start rapping Beast Mode, and HE DID! The overall show was just AMAZING!!
At the end of the show, there was a merch stand right across from the music room. With various items, you can purchase.
I knew there was a possibility to meet Jake Miller at the end of the concert, but I didn't want to come home late. At that moment, I lived 1,5 hours away from Amsterdam, so I had to go right away.
The staff of the venue were pleasant and respectful. My overall experience was beyond my expectations!
Thank you for reading, I hope you enjoyed it 🙂 I'm curious what and how YOUR first concert was. Let me know your experience, I would love to read all about it!
Much love