K-pop is a broad genre with different sounds, colors & vibes. 
It is not possible to only stan or listens to one group.
Every group and also each singer has its color. Each of them also holds a message they would like to send to their supporters. Some colors are similar, but there are ones that stand out. 
Musically wise but also personality-wise.
The groups I currently stan:
BTS (since 30 November 2017)

IKON (since mid-2018)

ATEEZ (since April 2019)

GOT7 (since April 2019)

The Boyz (since December 2019)

SF9 (since July 2020)

P1Harmony (since October 2020)

Seventeen ( since January 2021)

Monsta X (since April 2021)
 I only stanned BTS for a year, because I knew that the K-pop fangirl life is way more intense than just stanning western artists.
Honestly, some of the groups listed above are the ones that I casually listened to (at the beginning of my K-pop journey). I haven't taken an interest in these groups. 
In late 2018 I gave in and started to stan more groups. (Which was a good thing to do of course)  
Some of these groups contribute to my life on a deeper level.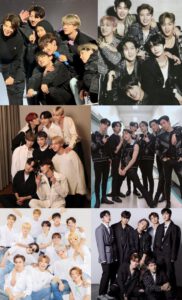 BTS – Made me Love Myself

IKON – Made me not care what people think & be me

ATEEZ- Taught me to Work Hard for what you want, it'll pay off

GOT7 – Be my crazy self

Seventeen – Made me proper realize that my friends are my family

Monsta x – Made me feel loved
These 6 precious groups hold a big piece of my heart & I hope I will be able to see them perform live.
Do you have a group (or multiple) that you ABSOLUTELY LOVE? Let me know about it! I would love to read it.
Much love